I realised yesterday, as I was riding with my Banchory friend Laurie and my Aberdeen friend Kristianna out to hike up Bennachie (post coming on that, once I get my camera back, which I forgot in Laurie's car... d'oh!), that it's been nearly a year since my good friend Barb left. That doesn't seem right... in hindsight, this year has just flown by. But because, ages ago, I promised a post all about Barb (don't worry, Barb... this isn't *all* about you), and because I never finished updating everyone on 2007, AND because I'm missing my fun summer-- and my really fun sight-seeing buddy-- I thought I would repost some things about last summer. These were on another blog, so some of you might have read them already. But nevertheless, I wanted to reminisce, and share with those of you who might not have heard about them already.
A little bit about Barb first: we met in early 2007, at a monthly dinner party that some of us divinity gals did. She is a PhD student at Southwestern Baptist Theological Seminary (and we forgive her for the Baptist part ;) ) and was here in Aberdeen for a study-abroad term. Over the course of the term, we got to be really good friends, which started just after Easter, when we stayed up all night watching films and talking while cottage-sitting for Laurie. That pretty much sealed things-- from that point on I think I spent nearly as much time with her as I did on my own, which was pretty darn awesome. Of the things we did, you'll hear more to come. There were loads of things. All with great pictures, thanks to Barb's gift for photography. I think you'll be able to tell that having Barb here, even if just for a term, was a real blessing for me. It was just what I needed-- not just a casual friend, but a deep and true one. Thanks, Barb. I miss you, my friend!
JUNE 2007
Even though the term was officially over, I still had a good bit of work to do in June. This meant that most of my playing was only done on weekends. During the days I was supposed to be working on my chapter on *Domestic Church* doctrine, and my paper to present at the Scottish Theological Postgraduate day conference in Aberdeen on 21 June. There was just too much fun stuff to be doing, though, to be working all the time-- Barb came over many evenings for dinner and Super Monkey Ball or television, and I went out with friends to see two dramatic productions. I went with my Kiwi friends to see *Much Ado About Nothing* at Drum Castle, but we were not impressed with the performance and left after about 20 minutes. Instead, we wandered the grounds there and had hot cocoa and biscuits-- Yum! It was pretty chilly, and we ended up having a much better time that watching a lame production in the rain. I also saw the school edition of *Les Mis* with some uni friends. I didn't know what to expect, but it was pretty amazing. They did an abridged version, and the chorus was huge! But the leads were really, really good and I enjoyed it so much. What I would have given to have been a part of something like that when I was in school! It was awesome.
On the weekends, I let myself play. A lot. Saturdays were Barb's sightseeing times, and I was glad to keep her company. We went down to Stonehaven on the first Saturday for their annual street festival (which was okay), and climbed up to Dunnottar Castle (two miles... up hill! over cliffs! in the drizzle!). It was a long walk, but worth it for the views.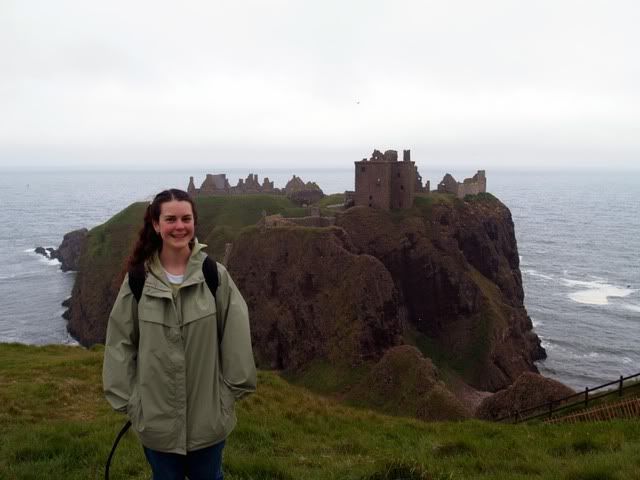 Me, in front on Dunnottar
Stonehaven Harbour, seen from the top of the steep climb we made.
Pipers at the Festival
The next Saturday, I went to Banchory with Kristianna and Barb to meet Laurie, and we drove out Deeside. It was a full day-- we stopped at the Cambus o'May (a quite old suspension bridge over the river Dee), Ballater, Braemar, and the Linn of Dee (a spot on the river where the water has worn away the rock in amazing ways, creating a mini-Grand Canyon with roiling cauldrons of water). At the end of the day, we went to a rather lack-lustre ceilidh (an evening of traditional Scottish music and dancing); all in all it was a great day out with friends.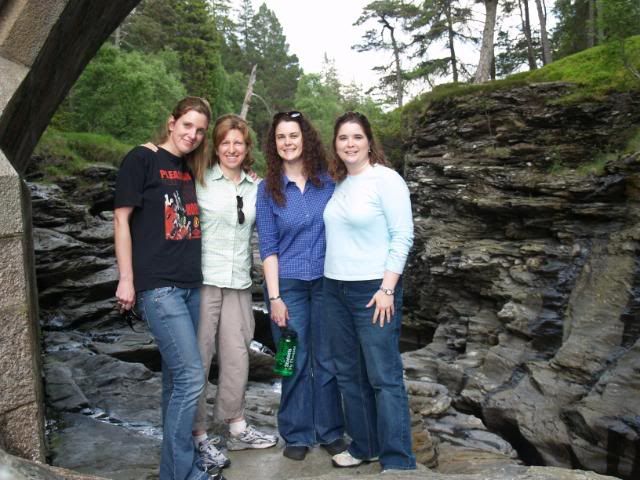 Kristianna, Laurie, Me, Barb
You can take the girl out of the country....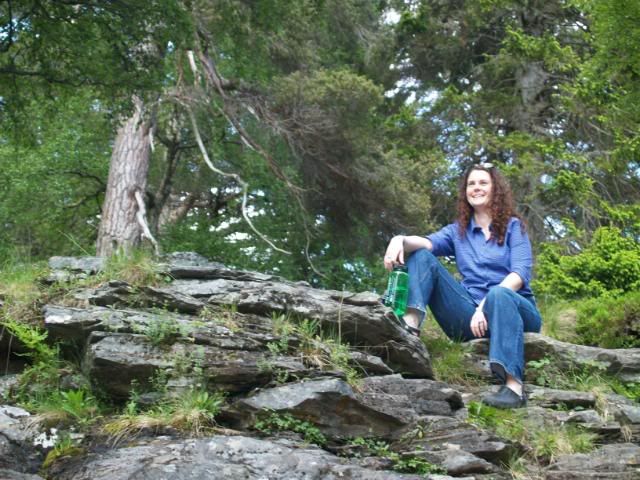 Me at the Linn of Dee, enjoying the day
Other than that, I worked really hard to get my chapter and paper done. It was down to the wire, but I got them both done-- my presentation actually went better than I had any right to expect, being my first one and all. After that... as Barb said, it was play time! Which was made even easier by the fact that she came to stay with me for a few weeks before she went home....
To be continued!