I know y'all are dying to hear what happened next... so I won't keep you in suspense any longer.
I went home.
It came about pretty last-minute, actually. I hadn't planned to come home again until I was finished with my degree (which, incidentally, has taken longer than I expected at that time), but my sister and brother-in-law needed a hand moving 3/4 of the way across the country, and a friend here told me about a really cheap way to fly back and forth (from here to Canada). I ended up finding tickets that worked, and for a very nice price... and the thought of spending time with my nephew, who turned one year old in July, made up my mind. I bought the tickets, and off I went! It turns out, I needed the time at home more than I thought... it was a good thing, to take a break and get out of Scotland for a while. I love it here, but seeing the bubbee for five weeks was just what the doctor ordered!
I left Aberdeen on the morning of 25 July, to catch a bus to Glasgow, where I flew out direct to Vancouver. That was nice, a direct flight for a change! I arrived in Vancouver, where the family drove up to get me... eventually. Apparently the crossing into Canada took forever. Getting back out took a while, as well, but only because Jen couldn't leave without finding this certain brand of chocolate chip cookies... we wandered around the Vancouver area for a while, but we finally found them. It was really late when we finally arrived back in Seattle, and we all stayed in a motel, since the movers had cleaned out the apartment already. We spent the next few days finishing up the packing and cleaning the place, with a few fun things in between. The very next day after I arrived, I got 14" cut off my hair to donate to
Locks of Love
. It turned out to be a good thing I did it so early, since the temps driving across country were in the hundreds several days! We also spent time hanging out with Jen and bubbee's friends at the park.
Before...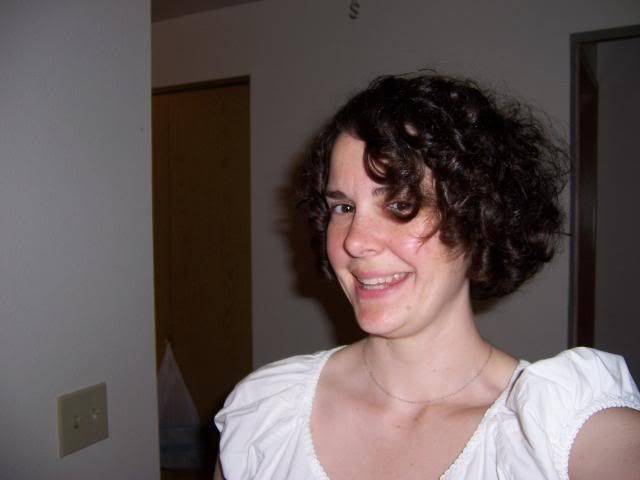 and after
Finally on Saturday night, after much time spent cleaning and trying to pack all the things they hadn't packed before into two small cars (it didn't work so well, ha!)... we were off! Two cars, three adults, three cats, one bubbee, and a ton of stuff!
We had to be in Indiana by the following Friday, for the house closing. So we drove, and drove, and drove. Many days we didn't stop for a hotel until late into the night, or early in the morning, depending on your point of view. We went through Washington, Idaho, Montana, Wyoming, South Dakota, Minnesota, Wisconsin, Illinois, and Indiana. Whew! It was crazy! The only places we stopped to sight-see were in South Dakota-- Mount Rushmore, Wall Drug, and the Corn Palace. If you haven't seen the first and last, I highly recommend them.
Wall Drug
is fine if you need to stop, but it's pretty much a tourist trap with loads of shopping. The homemade ice cream was tasty, though!
Rushmore
was fantastic. I hadn't seen it before, and it was impressive. The
Corn Palace
in Mitchell is worth seeing, too-- though it is a bit, um, corny. Ha! It's decorated with murals, a different theme each year, made entirely of corn. Pretty neat, if you ask me. We also drove through lots of natural beauty-- mountains and plains, rivers and trees, sunsets and flowers. Gorgeous! Sadly, because I was driving Emeralda the majority of the time (my sister's green Firebird), I had to take most of my pictures out of the window of a moving car... luckily, many turned out just fine, and I didn't crash!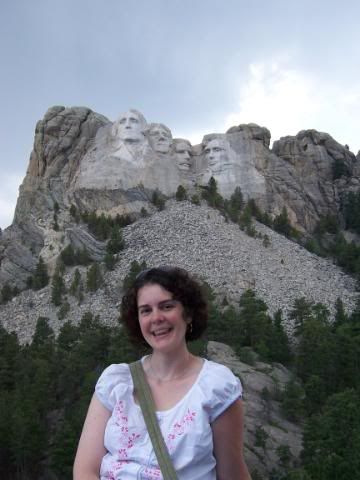 Me at Rushmore
In Deadwood... we saw tons of motorcycles, because the Stugis rally was coming up
Random rock formations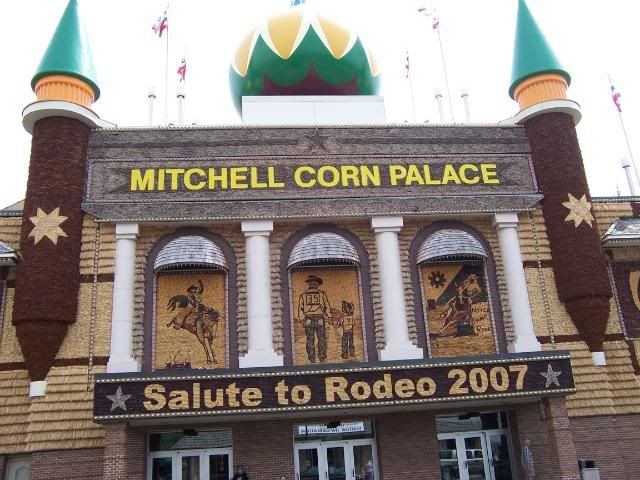 The Corn Palace, obviously
The only way I saw all the gorgeous sunsets
We did make it by the day of the closing, but because of their weird agreement it was another week before we could move in. So after more than a week of living in hotels already, we spent yet another week in one. Aaargh! It was crazy. Saum actually started work while we were living at the La Quinta, and Jen, bubbee and I spent our days by the pool and watching the Disney Channel (mostly Hannah Montana, it seemed). Also during that week, I got to go to
Cedar Point
(the roller coaster capital of the world) in Sandusky, Ohio. I went with my friend Jason, who for the past couple of years I have gone thrill riding each summer. I had only been to Cedar Point once before (also with Jason), but hadn't gotten to ride one of their most awesome new rides, the Top Thrill Dragster. This time, however, I got to ride it (finally) and it was amazing! We rode that on Wednesday night, to make sure we got to ride. It was a darn good thing, too, as we didn't get to ride much on Thursday because it poured down almost all day long! We got soaked to the bone, but it eventually cleared up and we got to ride a few more things. I love that park! If you like coasters, and you haven't been... you should totally go! Anyway, I spent two exciting days there, and then came back to help move into the new house on Friday, 10 August. And the time in the house is a story in it's own right....