You might think my summer would have been winding down, but you'd be wrong! Even after so much activity, there was still a lot going on in Aberdeen.
After we got back from the West, we only had four days until Barb deserted me. We pretty much just spend out time hanging out in town. We decided to have our *Last Supper* at Pizza Hut, which is definitely 'Barb-kosher' (she's kind of a picky eater, unless it includes pickles). It turned out that only Barb, Kristianna, and I could go-- and we had a great time! Barb forced me into sticking my toes into the North Sea with her, for her 'toes in different bodies of water' series... and it was freezing! Thank goodness the day was warm....
Barb, Kristianna, and me
My frozen toes in the North sea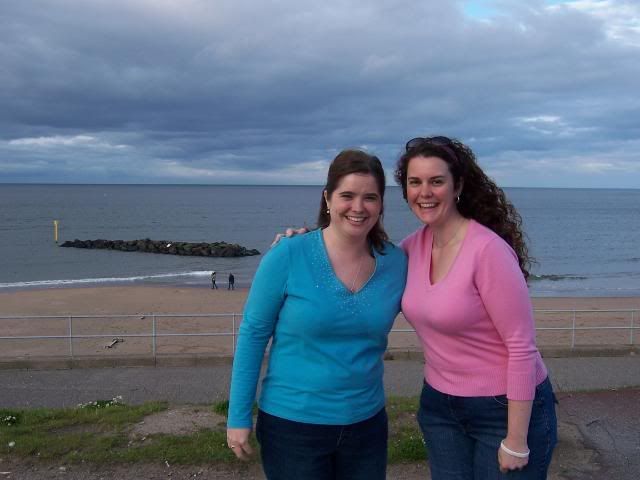 Barb and me at the beach
Barb's leaving was actually very hard on me. We had gotten to be really good friends, and had been hanging out a lot since Easter. Even though I knew she would be leaving, as she was only here for a term, it was still hard. It feels like all my friends here end up leaving me... okay, they don't leave ME so much as they just leave, but it still isn't very pleasant to be the one left behind. *sigh* It also was bad timing for Barb leaving, as well, since she was my one big Harry Potter fan friend-- and July was Harry Potter month! She left on 11 July, and on 12 July I went to see movie five-- The Order of the Phoenix. I was expecting very little from the film, as I have learned that the films always disappoint me. Still, I went to the opening day show. Even with as little as I was expecting from it, I was still disappointed. Michael Gambon has got to be the worst Dumbledore there could possibly be... has he ever read the books to know who he is portraying? Have the writers?! It sure doesn't seem that way, judging from some things such as the big fight between Dumbledore and Voldemort... but nevermind. I had bigger and better Harry Potter excitement to look forward to, because a week later at midnight on 20 July...
I stood in line, dressed in my Hogwarts finest, to collect my copy of the final installment: The Deathly Hallows. I have been following this series since book four came out, when my sister and dad sent copies of 1-4 to me. I had anxiously awaited the releases of each book since then, and this one was no exception. I arrived at Waterstone's on Union Street around 21.30 to take up my place in line, only a block or so from the entrance to the store. Funny enough, I was in almost the exact same spot I had been two years before for the release of The Half-Blood Prince, even though I arrived two hours earlier this time. The line eventually stretched all the way down the street, around the next street, and wrapped around to the next! Thank goodness I got there when I did! It was pretty chilly, so I ended up being glad I had worn my sweater, and wishing I had my Gryffindor scarf, as well! There were roving minstrels, musicians and stuff, but none stopped near me. By about 23.45, I was freezing-- hands frozen, cheeks beyond rosy, toes numb. Thankfully, the store was nice enough to let those of us who had been outside the longest inside to wait for the final few mintues. I was set to pick up my book from the Quidditch Pitch, but ended up having to wait quite a while... one of their three registers went down! But eventually I got my book, and giddily headed upstairs to get a caramel latte from Costa and to start reading. Just as I was about to start, my dad called from Tennessee to see if I had my book yet-- he had a few more hours to wait, but had his number. We chatted briefly, and then I dove in! I read for about half an hour, and then headed back to my flat-- where I read straight through until about 7.00 (the last time I remember looking at the clock, anway), with only two short breaks: one to try and call Barb, and one to call my sister. I must have fallen asleep reading, because I woke up I woke up on the sofa, with my book carefully marked and laid on the table, and me covered with a throw (both courtesy of my brilliant flatmate). It was then about noon-- I got something quick to eat and then went back to it, and read straight through. It was fantastic! I cried-- a lot-- because good things happened, and sad things happened, and at the last it was ended well. I loved it, and was only disappointed we didn't get more in the 'epilogue'. Overall, though, I thought it was a good way to end the series, and to wrap up all the little details we'd been dying to know. I'm not going to talk about the plot here, in case some of you haven't read it (you should!)-- but if you have/when you do, I'll be more than happy to talk! ;)
Me, in my Hogwarts uniform, with my book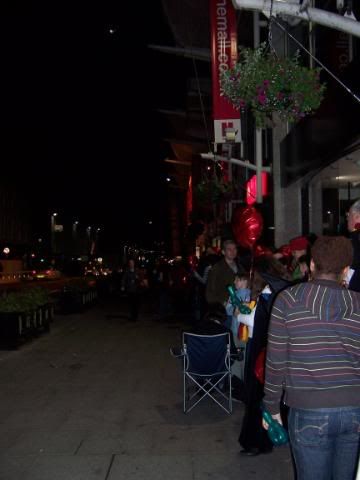 My spot in line, looking up towards the store
The rest of July was set to be pretty uneventful, until... well, you'll see. =D